iPad's 'Mute' Switch Replaced With Screen Rotation Lock
9 to 5 Mac notes that Apple appears to have made a minor last-minute hardware change to the iPad, replacing what was previously described as a mute switch just above the volume rocker on the side of the device with a "screen rotation lock".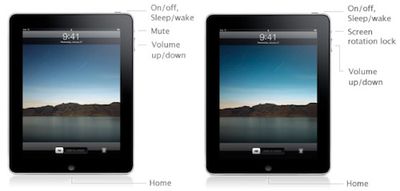 iPad External Buttons and Controls: Original (Left) and New (Right)
Like the iPhone, the iPad automatically senses its orientation and adjusts its display between portrait and landscape modes with no user input required beyond turning the device. One common complaint among iPhone users has been, however, that there is no system-wide mechanism to lock the screen in one orientation. The lack of screen rotation lock on the iPhone is particularly frustrating to those attempting to use their devices while lying down on their sides and finding their iPhone rotating the display to an "upright" position.
Apple appears to have decided that this issue is important enough on the iPad to dedicate one of the device's few hardware buttons to addressing it. Users wishing to quickly mute their iPads will apparently have to use other methods than a hardware button, such as onscreen controls or holding down the volume rocker switch to reach zero volume.