Shipping Times for 27-Inch iMacs Finally Return to Normal in U.S. and Canada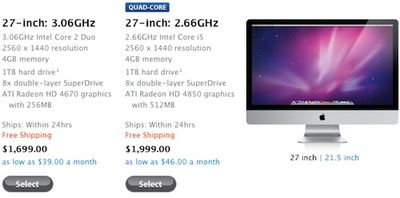 Several
MacRumors
readers have reported that shipping lead times for Apple's 27-inch iMac models have
returned to "Within 24hrs"
in Apple's online stores in the U.S. and Canada, the minimum possible shipping window in Apple's stores. Shipping times had ballooned to as much as three weeks in the U.S. and Canada in January as the company struggled to deal with high demand and several issues related to flickering and yellow-tinting of the machines' displays, issues the company
claimed
last week to have been addressed.
Not all locations around the world are seeing such prompt shipment of 27-inch iMac models, however, as Apple's online stores in Australia and New Zealand are seeing 5-7 business day windows and European stores are showing as much as two-week delays in availability. Apple's 21.5-inch iMac models and other machines are shipping within 24 hours in those countries, and availability of the 27-inch iMac should continue to improve as Apple is able to push more machines into its international sales channels.