iPad SDK Support for Front Facing Camera, Camera Flash, Zoom and Video Conferencing
Unfortunately, we already know how this story ends. Apple introduced the iPad in late January and made no mention of a camera - either on the front or back of the device. So that means no video conferencing or even photos are possible on the first generation device.... and yet, it seems like they had everything in place for it already. For example, the enclosure has an empty space for the camera and the SDK has accept/decline video chat references.
Here are some even more tantalizing pieces of information found in the latest Beta 3 iPad SDK. We've been told that if you go digging into Apple's private framework which controls the camera, the iPad SDK tests for 3 additional camera characteristics that are not found in the iPhone 3.x SDK. For comparison, Erica Sadun has a code listing of iPhone 3.x PLCameraController.h on her site. The Beta 3 iPad SDK version adds these additional test conditions for the device's capabilities.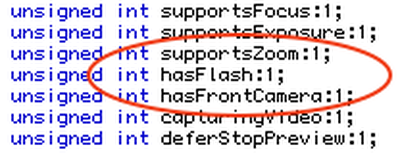 It seems Apple built in API support to test to see if your iPad had a Front Facing Camera, Zoom and a Camera Flash. The front facing camera would, of course, be used for video chat, while Zoom and Camera Flash are often requested features for the iPhone's camera.
Further investigation (via 9to5Mac) even reveals the following icons which clearly show an interface to accept or decline a video chat:

Given the size of these buttons, they were intended for use on the the iPad's screen rather than the iPhone. We're not sure why these features were dropped on the first version of the iPad, but we hope to see it again in future versions of the iPad or even iPhone.