Apple iPad Pre-Orders to Begin February 25th? Speculation about Other Features?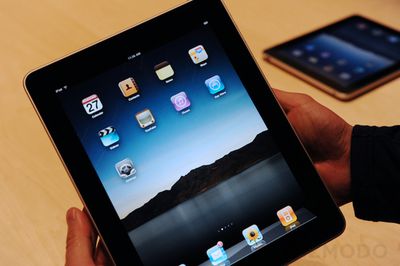 AppAdvice claims
that the iPad pre-orders could start as early as February 25th. The pre-orders are said to be for the U.S. Wi-Fi model initially. It's really not much to go on, but Apple hasn't given any indication about their launch plans for the iPad. During their press event, Jobs simply said that the Wi-Fi version would be shipping in 60 days, which places it into the last week of March.
While Apple did allow for pre-orders for the iPhone 3GS, the original iPhone launch was on a first-come first-serve basis at retail stores. The Wi-Fi iPad, however, does not require any long term contracts to be set up, making pre-orders more likely a possibility. Apple would have to get FCC approval for the device before being able to place it on sale. AppAdvice, however, isn't a particularly reliable source of rumors as they previously claimed the iPhone 3GS would have an OLED screen and FM transmitter (both of which were not true).
As the actual launch approaches, many are hoping and speculating that there may be some unannounced software features for the iPad that might not have been finished at the time of the media event. It's not without precedent, as Apple did announce YouTube support for the original iPhone just 9 days before its actual launch.
Kevin Fox had noted that several of the iPhone/iPod Touch minor applications were missing from the iPad. These include Stocks, Weather, Voice Memo, Clock, and Calculator. He goes on to suggest that these minor apps could return as some sort of Dashboard-like widget system.