Apple Patent Applications: Front-Facing Camera Depicted on Handheld Device, Rotatable Mouse
A pair of Apple patent applications published today have been generating a bit of attention for their disclosure of Apple's behind-the-scenes work on its products. The first application covers methods for addressing variations in individual digital camera lenses by capturing images of known color and calibrating the software driving the lens to compensate for any non-uniformity in the lens with respect to a reference standard. While the technology could certainly be useful for ensuring consistent camera lens performance across devices in spite of manufacturing variations, AppleInsider noticed that images accompanying the patent application depict a front-facing camera on the handheld devices.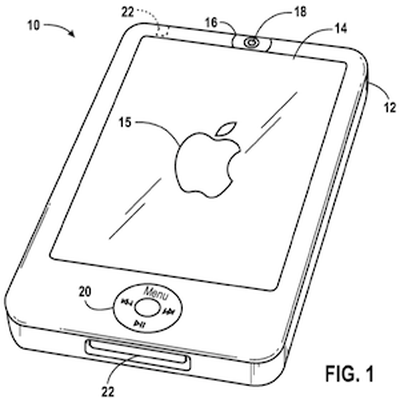 Apple handheld device depicting front-facing camera
This is
not the first time
that Apple has included product images in its patent filings showing front-facing cameras, despite that fact that none of its handheld products have yet to be released offering such a feature.
Conflicting reports
prior to the iPad's introduction disagreed over whether the device would contain a front-facing camera, and one was not included in the official introduction. An
inspection
of claimed iPad parts, however, reveals an empty space in the bezel that appears to exactly match that used to house iSight cameras in Apple's notebook computers.
A second patent application, detailed by Patently Apple, describes a mouse input device with a convex bottom and gyroscopic sensors that would allow users to control their computers by rocking or turning the mouse. Such actions could be used for horizontal or vertical scrolling or for rotating items on a computer screen.

Mouse roll for horizontal scrolling
The patent application appears somewhat similar in at least general line-of-thinking to one
published last month
that describes the use of force and velocity sensors to allow for gesture-based input on mice.