MWSF 2010 Odds and Ends: Gloves, Xserve Rack, Speaker Helmet, USB Wall Power
Capacitive Capable Gloves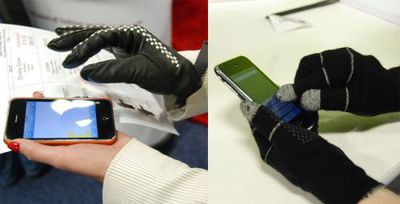 At Macworld,
iTouch Gloves
(left) and
Telefingers
(right) both offered solutions for using the iPhone's capacitive touch screen while wearing gloves. iTouch Gloves offer high end leather glove styles that start at $99.95.. They offer a variety of styles in both
women's
and
men's
styles.
Telefingers' solution is quite a bit less stylish but also much cheaper. For only $15 a pair, you can get a thinner (non-leather) pair gloves with specialized tips that allow you to control your iPhone screen. Either way, it's better than using sausages.
Xserve Racking Solution

Electrorack
offers a wide variety of server racking solutions, but this one caught our eye. It's a rack enclosure for Xserves and RAID configurations that happens to styled like an oversized Mac Pro.
SurfaceSound in Your Helmet

TuneBug
has been offering its SurfaceSound solution
Vibe
for some time already. Vibe is a small device that takes an audio source and turns any surface into a speaker. TuneBug has taken this same concept and applied it to both Bike and Snow/Skateboard helmets.
Shake connects via Bluetooth to your iPhone and then transmits sound waves throughout your helmet, letting you listen to your favorite tunes without headphones. Shake is expected to ship in April for $119.95.
U-Socket - USB Power in Your Wall

Fastmac
claims this is the first of it kind due to some regulatory issues they had to clear. The
U-Socket
allows you to have a wall plate with both USB and regular power outlets. No more hunting for your USB->Power dongle, just plug your USB cable straight into the wall. U-Socket can be installed on any existing wall socket. The price is
$19.95 now
, but normally $29.95.