MWSF 2010 Mac: Tales of Monkey Island, iPlayback, Wireless USB Audio/Video
Tales of Monkey Island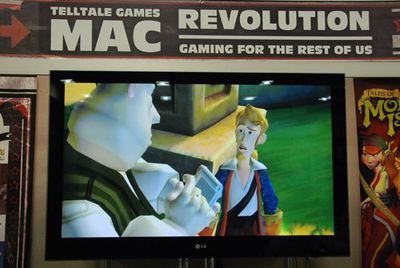 One of the big new announcements at Macworld was
Tell Tale Games'
release of a Mac version of
Tales of Monkey Island
available immediately. The company has also committed to delivering
Wallace & Gromit's Grand Adventures
,
Strong & Bad's Cool Game for Attractive People
, and
Sam & Max to the Mac
. The next game to be released is up for
user vote
.
Tales of Monkey Island is a 3D graphic adventure game based on the classic title Secret of Monkey Island and originally released for PC and WiiWare in 2009. Tales represents the 5th in the Monkey Island series and is the only modern version that has become available for the Mac.
Available for
purchase now for $34.95
and a free demo is also available for download.
iPlayback - HDMI to mini Display Port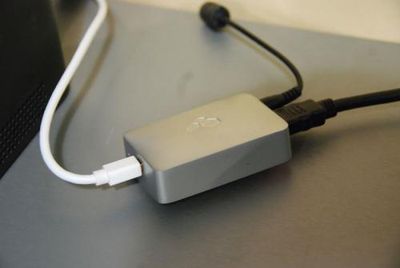 Want to use your 27" iMac as an HDTV? Kanex was showing off their HDMI to mini Display Port adapter that lets you connect your Playstation 3, Xbox 360 and Blu-ray players to your 27" iMac. Both video and audio are transmitted across at a resolution up to 1920x1200. The retail price for the device will be $149 and its expected for release in the next couple of months.
Wireless USB A/V Adapter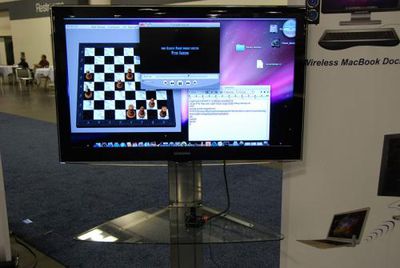 That is a MacBook screen being shown on a HDTV wirelessly. Wisair
announced
Mac support for their wireless USB DisplayDock at Macworld.
The Wireless USB DisplayDock Set allows you to easily connect your MacBook using a single USB adapter. Both wireless audio and video are transmitted at up to 1440x1050 screen resolution. The wireless base station that connects to your TV supports VGA, HDMI, and a 3.5mm audio jack.
The Windows version of the device is shown on the website, and is sold at retailers under a variety of brands. The hardware is identical for the PC and Mac, but the official Mac drivers won't be here until the end of March. Those drivers should become available on the manufacturer's pages, or you can wait until a Mac-packaged version becomes available in about April.