Apple's Research Into Social Aspects of Online Shopping Gaining Renewed Attention
In April 2008, the U.S. Patent and Trademark Office (USPTO) published an Apple patent application revealing the company's research into ways of integrating social aspects into online shopping as part of enhancements to the visitor experience. As described in the patent application, customers would be able to "see" what products other customers shopping in the online store were looking at at any given time. Customers would also be able to interact with each other, allowing them to ask questions of each other such as why a customer had left one product to look at another one.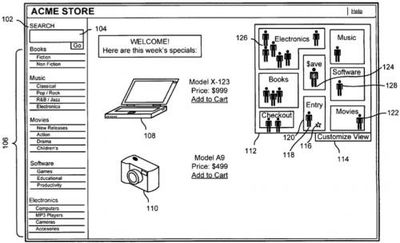 Another example describes the integration of real-time updates into the virtual shopping experience, such as allowing a store owner to "invite" customers already shopping on the site to a chat or other event with a store guest such as an author. The technology would also allow such realistic details such as 3D perspectives and lighting and scenery consistent with the time of day and season of the user's location.

Patently Apple notes
that the USPTO officially
granted the patent
to Apple this morning, and while the granting of the patent almost certainly holds little significance in terms of a timeframe for launching such technology, the event does serve as a reminder of Apple's thoughts on how it might be able to improve the online shopping experience for its customers.
The patent, initially filed in September 2006, is credited solely to David Koski, a senior software engineer at Apple.