CES 2010: Hands On Pixel Qi Screen, Upcoming Tegra 2 Tablets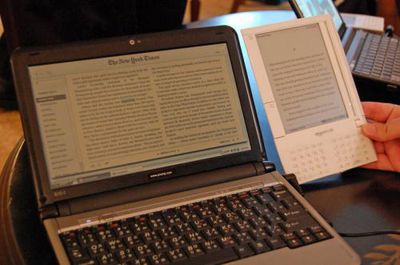 Pixel Qi provided demonstrations of its transflective screen for the press this morning and we were able to see it in action. Pixel Qi had first
announced
last month that production of its screens would start soon, with shipments of the first products to include it in Q1 of this year.
With the backlight on, the screen appears to be a standard LCD screen with an anti-glare finish. With the backlight off, the Pixel Qi screen closely resembles the e-ink screen of the Amazon Kindle and other ebook readers. While the contrast between the background and text on the Pixel Qi screen with its backlight off doesn't appear to offer the same contrast as the Kindle's e-ink screen to our naked eye, it's still quite readable and should be very capable in this mode to replicate the reading experience on a Kindle or similar device. These e-ink modes are said to be much better for the viewer in terms of both eye fatigue as well as reading speed and comprehension.

Pixel Qi representatives stated that their screen is scheduled to appear in a number of devices by the middle of the year, though they could not disclose the names of these device partners. Notion Ink has been the first to announce a device - an Android-based tablet dubbed Adam - that will have a Pixel Qi screen.
The viewing angle of this first generation screen, however, wasn't great, and while it is said to be comparable to other current netbook screens, it's hard to imagine that Apple would use this in their tablet. It's still a very promising technology and we're excited to see where it will eventually lead.
Elsewhere on the show floor, NVIDIA had a handful of early-development tablet models on display with its Tegra 2 chipset, including the ICD Vega and Notion Ink's Adam. The various tablets ran the Android operating system and featured capacitive touchscreen. No pricing or official release date information is available yet for any of the devices.
Hands on time with the devices were pretty limited, and, honestly, there wasn't really that much to do. Playback of HD video was demonstrated, but it was quickly apparent the scaled up Android operating system wasn't particularly well suited for tablet use. The on-screen keyboard was too big to use thumbs for typing, and otherwise awkward to hold to try to type more properly. To be fair, these are just development prototypes so certainly don't reflect the final shipping products. But it makes it clear that Apple will have had to address text input interface issues in their expected version of the tablet.