iPhone Finally Surpasses Windows Mobile in U.S. Smartphone Usage
FierceDeveloper reports on data from research firm comScore showing that Apple's iPhone has finally surpassed Windows Mobile in share of the U.S. smartphone market usage. The data is based on monthly user surveys averaged on a quarterly basis, and thus reflects actual handsets in use rather than sales of new devices.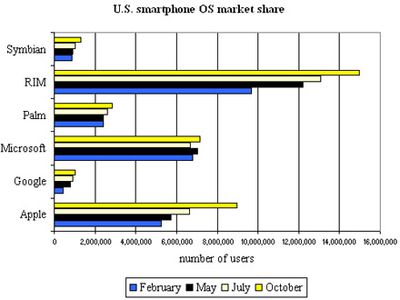 According to comScore's data, approximately 36 million Americans are smartphone owners, while an additional 196 million own non-smartphone devices. Nearly 15 million, or approximately 40%, of those smartphone owners are currently using Research in Motion's BlackBerry operating system, with the iPhone now clocking in in second place at about 25%.
Apple had been calculated to have surpassed Windows Mobile in U.S. sales market share as long ago as the fourth quarter of 2007, but Windows Mobile's head start in the smartphone market enabled it to maintain its advantage over the iPhone among active users for a considerable length of time. Its stagnated user base amid a rapidly growing market, however, has shrunk its share of the market to approximately 20%.