Apple Rolls Out iTunes Movie Bundles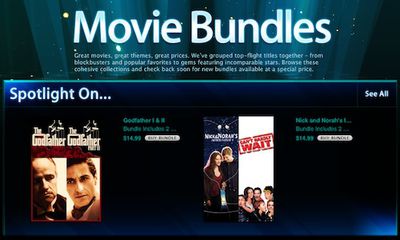 The iPhone blog notes
that Apple has launched movie bundles in the iTunes Store, offering consumers the opportunity to purchase a limited number of themed movie multi-pack downloads at discount pricing.
For example, the Godfather I & II bundle [iTunes Store] is offered at $14.99, while the films are available individually for $9.99 each. Some bundles carry even steeper discounts, with the Dirty Dancing bundle [iTunes Store] and several other two-packs priced at $9.99, essentially offering buy-one-get-one-free pricing.
The movie bundles are not limited to two-packs, however, with offerings available up to quad-packs, such as X-Men Quadrilogy [iTunes Store], which is priced at $29.99, a 33% discount over individual pricing.
Finally, Apple has included a pair of HD download bundles in the new offerings in W. / Religulous [iTunes Store, $27.99 HD/$14.99 SD] and a Jason Statham "Action Pack: [iTunes Store, $34.99 HD/$24.99 SD] including Crank 2, Transporter 3, and The Bank Job.
iTunes Movie Bundles currently appear to be limited to the U.S. and Canadian stores, with approximately 30-40 bundles currently available in each store.