Apple Rolls Out Customizable Digital iTunes Gift Cards Via Facebook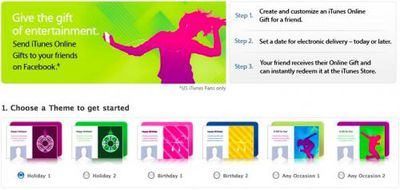 TechCrunch reports
that Apple has rolled out a new feature through its iTunes Facebook page allowing users to create customizable
digital gift cards
. The feature, which is currently limited to U.S. iTunes Store customers, allows gift givers to choose from six digital gift card designs and iTunes credits ranging from $5 to $50. Gift givers can then enter a gift message and specify a delivery date for their recipient to receive their gift card electronically.
This appears to be one of the only ways to purchase a digital iTunes giftcard -- the Apple site itself only offers physical versions, and sites like Gifts.com and Giftcards.com don't have them either. Aside from this Facebook app, the only place we're seeing the option is from within the iTunes desktop app itself.
The report notes that the Facebook application's interface was designed by GroupCard, while the back-end is driven by Blackhawk Network, which has a long-standing relationship with Apple and is a prominent player in the gift card processing industry.