Apple Takes Control of 'TabletMac' Trademark
A couple of years ago, a company called Axiotron announced an aftermarket modification for the MacBook that converted the Apple laptop into a tablet. The modification remains for sale at $699 and takes a stock MacBook, removes the keyboard and screen, and adds a Wacom pen-based screen to give the device a tablet form factor.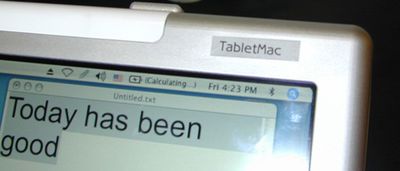 Axiotron Modbook
Axiotron originally began marketing the devices as a "TabletMac" as referenced in this
2007 press release
and filed a trademark for the term. Sometime in the past year, however, the trademark was transferred from Axiotron to Apple, and Apple is now listed as the owner of the trademark.

Transfer of ownership may not mean Apple has plans on using the term. Apple may have simply contested the trademark due to the potential for confusion between "TabletMac" and their own trademarks. But now Apple could potentially release a product called the TabletMac, and given the overwhelming number of reports of an Apple-branded tablet device, it certainly raises that question.
Still, we're not so sure Apple would really use this term for the rumored device, as the most recent reports have suggested that Apple's rumored tablet will be running a version of iPhone OS rather than Mac OS. It also seems likely that Apple would choose a platform agnostic name if the device was targeted at the broad consumer market.