Apple Records Nearly Half of U.S. PC Desktop Retail Industry Revenue
Betanews reports (via The Loop) on data from market research firm NPD showing that Apple garnered 48% of the U.S. PC industry's retail revenue last month.
In October, Mac US retail desktop computer revenue share was 47.71, percent up from 33.44 percent a year earlier, according to NPD. It's a stunning number, given just how many Windows PC companies combined command so much more market share, while competing for the same revenue share.
While NPD's Stephen Baker points to a confluence of events, including Apple's refresh of its iMac line during the month and a decline of PC sales ahead of the launch of Windows 7, as being responsible for Apple's performance during the month, he also notes that the trend is not likely to continue. Data from previous months, however, shows that Apple had been performing quite well even back in April of this year, when it captured 45% of the desktop retail revenue.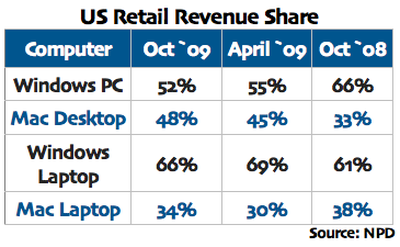 NPD notes that Apple's strong revenue performance is a direct result of its average selling prices, which are nearly three times that of Windows PCs. That difference has enabled Apple to claim high revenues despite significantly lower unit market share than top Windows-based PC vendors.
One factor helping Apple is average selling price. The Mac maker has largely chosen not to compete with Windows PC manufacturers below $1,000. While price wars continue at the low end among Windows PC manufacturers, Apple's entry-level iMac starts at $1,199. True, Apple offers the Mac mini for $599 or $799, but the ASP is considerably higher than comparably priced Windows PCs. Low-cost Windows PCs typically come with monitor, keyboard and mouse, which are all extra-cost items for Mac mini unless the buyer uses existing gear.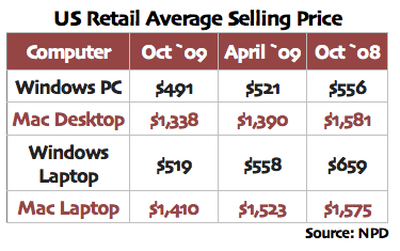 Apple's performance isn't as strong in the notebook segment, where it commands only a 34% share of the industry revenue, although that number still ranks Apple as a major player in the notebook field.