Rumors Revisited: Next-Generation iWork and iLife Plans? Apple Tablet Design Surprise?
Nearly a month before Apple updated its iMac line, French site Mac4Ever published a wide-ranging article revealing a number of tidbits on various topics obtained from its sources. At the time, the report was simply one of many circulating rumors about Apple's upcoming product announcements.
Mac4Ever's details, however, proved to be remarkably accurate once Apple made public its new products. The report correctly predicted the inclusion of an SD card slot and quad-core processors in the revised iMac, as well as pinpointing the Magic Mouse and the new aluminum Apple Remote. In fact, the only piece of information from Mac4Ever's report that has been shown incorrect was one source's claim that Apple might even go so far as to use Intel Xeon processors in the new iMacs.
Given the accuracy of most of Mac4Ever claims, a re-examination of the report's other, longer-term predictions seems appropriate. First, the report claimed that Apple was well on its way to updating its iLife and iWork applications to move to 64-bit and to take full advantage of the improvements included in Snow Leopard.
On the software side of things, Apple is probably deep into switching its group of iApps over to 64 bits, and taking full advantage of the new Snow Leopard technology. We've also been told that Leopard's compatibility hasn't been settled on yet, but that the 2010 suite would only support Macs with Intel-based processors.
A transition to Intel-only compatibility for the next-generation of iLife and iWork would not be a major surprise, as Snow Leopard itself dropped support for PPC-based Macs. What might be considered a bigger surprise is the possibility of the next version of iLife and iWork not supporting Mac OS X Leopard. Depending on when that software revision occurs, it could mark a very short turnaround from Snow Leopard's release in late August to discontinuation of support for Leopard, the immediately previous operating system version, in the iLife and iWork suites.
The question of when we can expect to see the next generation of iLife and iWork suites has also yet to be answered. Early in its development, iLife revisions were issued on a yearly basis each January at Macworld San Francisco. But as the suite matured, release cycles have slipped to closer to 18 months, with iLife '06 having been released in January 2006, iLife '08 in August 2007 (skipping an "iLife '07" release), and iLife '09 in January 2009. iWork releases have coincided with iLife updates since the productivity suite's introduction in January 2005.
Consequently, if Apple holds closer to its ~18-month release cycle going forward, users could expect the next generation of iLife and iWork suites to possibly be released in mid-2010, probably to be branded as "iLife '11" and "iWork '11" if 2007's pattern is any indication.
Apple has also recently dropped the "'09" designation from its iLife and iWork web pages and retail boxes, suggesting that the company is planning to continue selling the current versions of those suites well into 2010 and does not wish their names to make them appear outdated.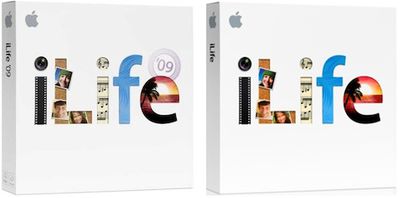 Comparison of Original (Left) and New (Right) iLife '09 Retail Boxes
The second still-outstanding claim from
Mac4Ever
relates to Apple's much-rumored tablet, which has recently been
reported
to be delayed until the second half of 2010, although the veracity of the claim is unknown.
Mac4Ever
's claim, however, provides only a vague suggestion that the tablet will be unlike any
concept designs or renditions
that have been floating around in recent months.
Concerning MacTablet, it will indeed be produced, but it will be far different from the concepts that have been announced so far on rumor sites.
The article offers no further information on what we can expect to see when Apple's tablet finally makes its appearance, but this claim and the report regarding iLife and iWork do carry some additional weight and bear close watching in the months ahead due to the accuracy of other claims made at the same time.