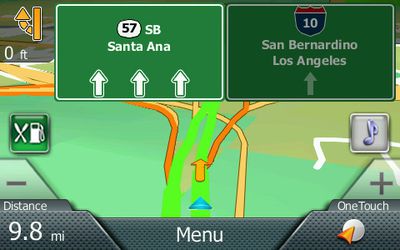 Turn-by-turn GPS navigation applications for the iPhone have been a significant topic of interest since the release of iPhone OS 3.0 earlier this year enabled their deployment, and yet another of the major standalone GPS device companies has finally jumped on board.
Magellan RoadMate 2010 North America
[
App Store
, $79.99 for a limited time] appeared in the App Store over the weekend, bringing a full-featured GPS solution including text-to-speech, lane guidance, and a "OneTouch" feature for easy access to favorite destinations.

- OneTouch Favorites Menu
The award-winning OneTouch favorites menu lets you bookmark your favorite places and searches so you can easily find them. One Touch, and youre there!
- Spoken Street Name Guidance
Navigate confidently with spoken street names and directions at each turn so you can keep your eyes on the road.
- Highway Lane Assist
Realistic highway signs guide you into the correct lane when approaching interchanges and exits.
- 3D Landmarks
Incredible 3D images of key landmarks show you the way with stunning visual cues.
- Address Book Integration
With the touch of a button, easily navigate to any contact saved in your iPhone address book.
- In-app Music Control
Take advantage of seamless iPod integration, navigating to any destination while listening to your music.
- Find Your Car
Automatically saves your parking location so you can easily find your way back to your car.
- Pedestrian Mode
Want to find a good espresso after dinner? With pedestrian mode you can quickly find and walk to a caf near your current location.
- QuickSpell Address Entry
Our highly-acclaimed QuickSpell with SmartCity Search allows you to quickly enter addresses into the oversized keyboard. With a few touches, you narrow your location search, making destination quick, easy and error free.
- NAVTEQ Maps
Travel with confidence using NAVTEQ onboard maps. The maps are pre-loaded onto your iPhone so you can navigate worry-free. Even access your maps when your coverage fails.
Magellan has also posted dedicated pages on its site covering the features of the iPhone application and announcing that an enhanced car kit very similar to TomTom's offering is coming soon. The car kit will be compatible with both the iPhone (3G and 3GS) and iPod touch (second generation), and its capabilities will be compatible with any GPS application.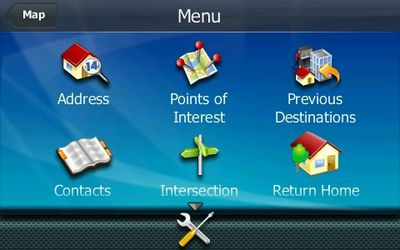 Magellan RoadMate 2010 North America
offers maps for the United States, Canada, and Puerto Rico, and the company's promotional materials indicate that versions for Eastern U.S., Western U.S. and Europe should be available soon.