Apple Researching Methods of Simplified Content Transfer Between Devices
AppleInsider details a patent application from Apple published today describing a method offering simplified transfer of data between devices. The method would allow users to easily or automatically transfer certain types of such as files or even content within applications such as online maps or other web pages between devices, addressing the often complex mechanics and decision-making involved in syncing only limited amounts of data between devices.
Though a user may have access to two similarly capable electronic devices, sharing data between the two devices may involve a number of steps, each of which may vary in difficulty. The process of transferring data between the devices may include many user decisions, such as which data to save, where the data is saved, which formats each device may be capable of processing, how to interconnect the devices for a most effective data transfer, etc. Such complexity may increase the difficulty or time spent transferring data between two electronic devices.
In one embodiment of the invention, a "Grab & Go" iPhone application could be used to allow users to transfer such content as files and open browser windows from a desktop Mac or other device.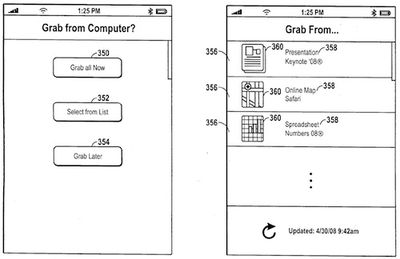 The patent application also describes user-definable categories that could enable users to automatically grab only certain types of data from another device.
. . .a user may be sitting at their desk at work with an important spreadsheet open on their computer 58 when the user is called into an unexpected meeting. The user may have a number of other personal applications running. The preferences described above may allow the user to "grab" only files related to work from the user's work computer, such as only user data associated with productivity applications. In this way, the user may transfer only the important spreadsheet in the simplified data transfer 114, showing up to the meeting with only those files pertinent to work.
Additionally, the system permits users to define preferred methods of connection between devices, and security settings, as well as options to automatically convert files and content that would be unreadable on target devices to PDF format.


The patent application was filed on September 30th, 2008 and is credited to a total of seven inventors, including former Apple executive and "Father of the iPod"
Tony Fadell
.