Apple Closing Quickly on Research in Motion in Smart Phone Market Share
Market research firm ChangeWave today released its latest quarterly Consumer Smart Phone survey, which includes survey data taken in mid-September highlighting market share trends for Research in Motion, Apple, and Palm.
In the horserace among manufacturers, the release of the iPhone 3GS has led to a big jump in smart phone market share for Apple and has placed them within striking distance of Research In Motion -- whose slew of models are still number one but have fallen to their lowest level in two years.
The report is an expanded analysis of data touched upon in September that showed Apple's smart phone market share rising from 25% to 30% between June and September. The new analysis compares iPhone market share to the performance of Research in Motion, which has trended slightly down to currently stand at 40%, and Palm, which appears to be stabilizing at approximately 7% of the market after a steep decline from its leadership position earlier this decade.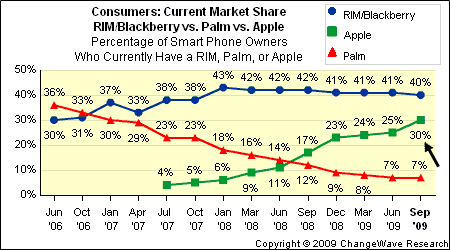 Overall, smart phone growth continues, with 39% of surveyed mobile phone owners reporting owning a smart phone, up from 37% in the previous quarter, and a continuation of a clear trend extending back many years as smart phones have continued to gain more enticing capabilities at lower price points.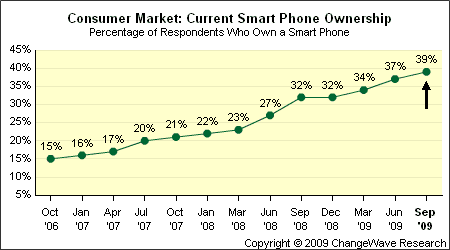 Apple also appears poised to continue to eat into Research in Motion's lead in the smart phone market, with 36% of survey respondents planning to purchase a smart phone in the next 90 days looking to purchase an iPhone, with only 27% of those interested in Research in Motion's BlackBerry. The numbers represent a decline from the 44%-23% advantage held by Apple in the previous quarter, but as the report notes, the decline is due to a natural tapering off of enthusiasm after the iPhone 3GS launch and is actually a much smaller decline than was observed after the launch of the iPhone 3G last year.