Surveys Point to Mac and iPhone Sales Momentum, Strong Tablet Interest
In a note to clients issued today, research analyst Mike Abramsky reported on the results of several recent RBC IQ/ChangeWave survey questions demonstrating surging Mac and iPhone sales momentum, as well as significant interest in a potential Apple tablet computer.
In a survey of customers who had purchased a computer within the past 90 days, 25% of respondents reported purchasing a Mac laptop, nearly matching previous highs set late last year and up from 18% in July. Abramsky notes that the sales spike has likely been driven by a combination of price cuts to Apple's notebook lines and back-to-school shopping. Apple's launch of Mac OS X Snow Leopard, generally-improving consumer electronics sales, increased brand awareness and iPhone-related spillover are also cited as factors in Apple's recent Mac rebound.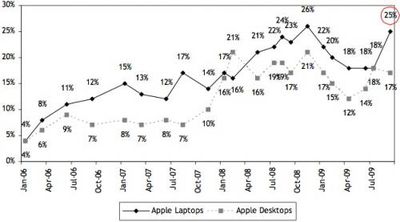 On the iPhone front, 30% of surveyed smartphone customers are now iPhone owners, up from 25% in June. Based on its research, RBC projects Apple to reach a 2% share of the total global mobile phone market this year with 22.8 million iPhones sold. RBC estimates that Apple's mobile phone market share will rise to over 4% on sales of 54.7 million iPhones in 2012.

An RBC IQ/ChangeWave survey question about a hypothetical Apple tablet priced in the $500-$700 range also revealed significant interest, with 21% of buyers noting that they would be interested in purchasing such a device. That data compares to only 9% of buyers who had expressed interest in purchasing the iPhone in April 2007 ahead of its launch.