Safari for Windows Receives Prominent Placement on Microsoft's European 'Browser Ballot'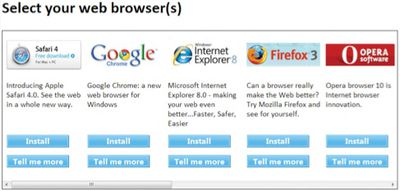 Apple's Safari for Windows browser has received some attention today due to a
proposal
from Microsoft to use a "browser ballot" system to allow users to select Internet browsers for use on their Windows PCs in Europe, where the company has faced significant scrutiny over its historical anti-competitive integration of Internet Explorer with Windows.
Microsoft proposes featuring a "ballot" of the five most popular Internet browsers from which users can select their desired browser. Additional browsers would be available for selection, although they would be featured much less prominently. In ordering the selection of featured browsers, Microsoft has chosen to place them in alphabetical order by vendor from left to right, giving Apple's Safari the prime first position. Safari would be followed by Google's Chrome, Microsoft's Internet Explorer, Mozilla's Firefox, and Opera.
As Firefox designer Jenny Boriss notes on her personal blog not affiliated with Mozilla, the arrangement has raised some eyebrows for the apparent advantage it gives to Safari, which currently holds a very small percentage of Windows browser share.
This ordering is about the worst option possible, both for user choice and the web as a whole. Microsoft wrote in their proposal that "nothing in the design and implementation of the Ballot Screen and the presentation of competing web browsers will express a bias for a Microsoft web browser or any other web browser," but this is exactly what the current design does. Windows users presented with the current design will tend to make only two choices: IE because they are familiar with it, or Safari because it is the first item.
Boriss, who understandably would like to see Firefox, the second most-popular Windows Internet browser behind Internet Explorer, featured more prominently, cites studies of election results that show that minor party candidates listed first on a ballot frequently receive up to a 50% boost in their vote totals simply due to their placement on the ballot.
In order to address that issue, she suggests several alternative arrangements, including randomizing the order of the five featured browsers on each load of the ballot screen, ordering the list of browsers based on market share with Internet Explorer being placed last, or a combination of the two in which the probability of a given browser appearing first in the list is weighted by its market share.
While the current design of the ballot screen is not final, the European Commission gave its approval last week to begin market testing of the feature.