Two-Handed Multi-Touch Technology Gains Renewed Exposure
AppleInsider points to a patent application filed in June and released yesterday that brings renewed attention to two-handed multi-touch capabilities previously included in patent applications from Apple and Fingerworks, the company acquired by Apple in 2005 for its multi-touch technology.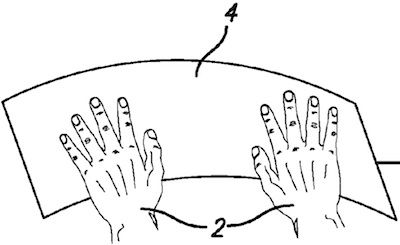 The latest patent application appears to be a slightly edited version of content found in
several patent applications
made by Fingerworks in mid-2006.
Apparatus and methods are disclosed for simultaneously tracking multiple finger and palm contacts as hands approach, touch, and slide across a proximity-sensing, multi-touch surface. Identification and classification of intuitive hand configurations and motions enables unprecedented integration of typing, resting, pointing, scrolling, 3D manipulation, and handwriting into a versatile, ergonomic computer input device.
The technology has gained renewed interest as a rumored launch of Apple's much-anticipated tablet computer appears to be approaching and speculation mounts about how the device will function. In brief, the Fingerworks patent application addresses multi-touch functionality extended to be able to sense full touch input from ten fingers, as well as the palms of the hands. The complex touch sensing would allow for such features as intelligent typing capabilities and graphical manipulation abilities more sophisticated than the "pinch and zoom" found on the iPhone and multi-touch trackpads, and provide the versatility for multiple types of input without the need for multiple input devices.