Apple Investigating Reports of Poor Battery Life for iPhone OS 3.1 Users
The iPhone Blog reports that Apple is taking steps to investigate numerous reports of reduced battery life from iPhone OS 3.1 users. The company's AppleCare division has reportedly begun contacting users complaining about the problem in its support forums, asking users a series of 11 questions about their battery life issues.
An undisclosed number of users who have posted on Apple's discussion boards about poor battery life following the iPhone 3.1 software update are being contacted by AppleCare helpdesk with a hefty list of 11 follow-up questions. These questions focus primarily on the usual battery culprits, email (especially push), WiFi and Bluetooth, and App Store apps. Number 10, asking "When you notice a power drop, does it seem to be a legitimate power drop, or rather an issue with the battery icon indicator?", is certainly interesting.
Users are also being sent a "Battery Life Logging" configuration profile for installation on their devices. The configuration profile reportedly tracks battery usage data and syncs it to iTunes, where users are asked to send the data back to Apple for analysis.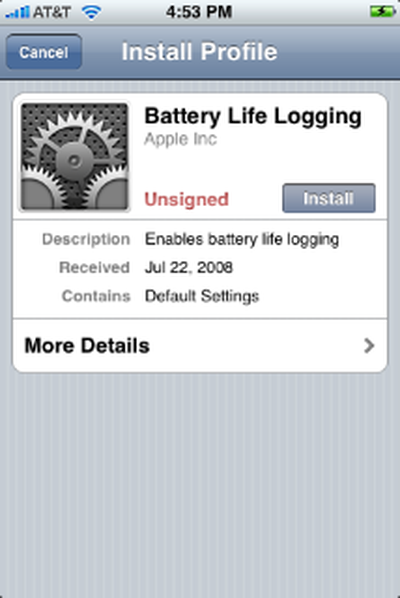 iPhone OS 3.1 was
released
earlier this month at Apple's "It's Only Rock and Roll" media event and brought a number of enhancements for iPhone and iPod touch users.