40 GB Apple TV Shipping Date Slips, Leads to Speculation of Updates Next Week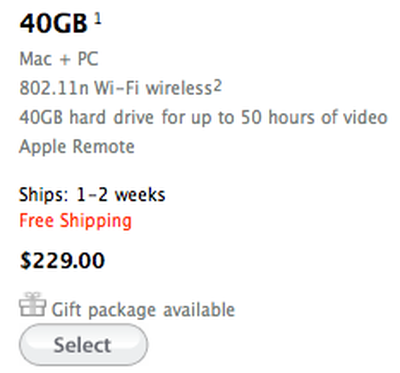 The Loop reports
on a new research report from Piper Jaffray analyst Gene Munster noting that the shipping window on Apple's
40 GB Apple TV
has slipped to 1-2 weeks. Coming just eight days before Apple's
media event
expected to focus on music and iTunes-related content, the change leads Munster to speculate that Apple may be making a change to its Apple TV lineup next week.
Munster is basing his opinion partially on the fact that Apple's online store shows a 1-2 week delivery time for the Apple TV, which he said he finds "puzzling ahead of next week's event."
Munster feels that Apple may phase out the 40GB model and lower the price of the 160GB model to make room in the product category. "A new model is possible given the hardware has been the same for 2+ years," said Munster.
Munster has issued several research reports in recent weeks suggesting that Apple is likely working to launch additional iTunes Store video content, possibly alongside an Apple TV revamp, and may even be pursuing an Apple television set.