Apple's UK Online Store Lists August 28th Ship Date for Snow Leopard Up-to-Date Program [Updated]
Apple's UK online store is now listing a shipping date for the OS X Snow Leopard "Up-to-Date" program of "by August 28th". The listing comes on the heels of reports from several sources in recent days that Snow Leopard would see an August 28th launch, ahead of Apple's previously-announced September launch window.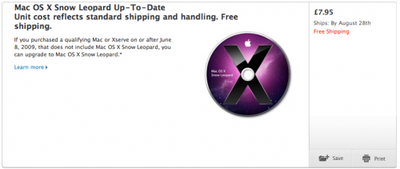 A brief survey of the equivalent page at Apple's online stores for a number of other countries currently shows all of them still listing an estimated shipping date of September.
The page appears to only be an informational listing, as users are unable to order Up-to-Date discs directly via the product page in Apple's online store. Customers must first verify that they are eligible for the program through the main Up-to-Date program page, which restricts participation to users who purchased a Mac on or after June 8th, 2009.
Update: Following reports that Apple's online stores for several other countries, including the U.S. and Canada, began showing the "by August 28th" ship date, Apple has now revised all of those listings to again read that the Snow Leopard Up-to-Date disc will ship in "September".