Netflix Video Streaming Coming to the iPhone?
According to a report from Multichannel News, the iPhone may be next in line to gain the ability to stream video via Netflix's "Watch Instantly" feature. The feature is currently available on Mac and PC for all Netflix members, but subscribers with an unlimited membership plan may also take advantage of "Watch Instantly" on compatible devices other than a computer, such as an Xbox 360 or Roku Digital Video Player.
Netflix, ahead of pay-TV providers, continues extending its own "TV Everywhere" strategy to more devices.
Next up: The company will soon offer the Watch Instantly video-streaming feature on Apple iPhones and iPod Touch devices and the Nintendo Wii gaming console, according to an industry executive familiar with Netflix's plans. (Netflix wouldn't confirm the info, with a rep saying it declines to comment on "rumors or speculation.")
While some iPhone applications such as YouTube offer video streaming over Wi-Fi or a cellular network data connection, other apps such as SlingPlayer Mobile are only capable of streaming video when connected to a Wi-Fi network, purportedly to avoid over-taxing cellular data networks. The report notes that a similar restriction is likely for any Netflix video streaming on the iPhone.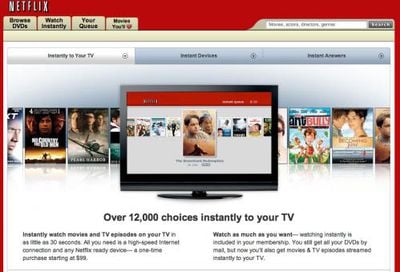 Nintendo's Wii is also on the list of devices rumored to get "Watch Instantly" capability. No official word is available on when this feature may become available or the form in which it might arrive an official app in the App Store or a special web portal. Netflix has declined to comment on this rumor.