Amazon Begins Accepting Pre-Orders for Mac OS X Snow Leopard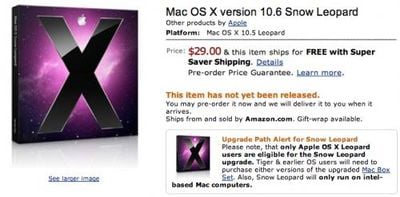 Several
MacRumors
readers have reported that Amazon has begun taking
pre-orders
for Apple's forthcoming Mac OS X Snow Leopard. Amazon is currently offering Snow Leopard at Apple's
announced price of $29
for OS X Leopard users, and the listing notes that while Snow Leopard is slated for a September release, no official release date has been announced.
Amazon has also prominently featured an "Upgrade Path Alert" notifying customers that the upgrade is available only for Intel computers currently running OS X Leopard.
Please note, that only Apple OS X Leopard users are eligible for the Snow Leopard upgrade. Tiger & earlier OS users will need to purchase either versions of the upgraded Mac Box Set. Also, Snow Leopard will only run on intel-based Mac computers.
Amazon has also begun offering pre-orders of OS X Snow Leopard family packs, Mac Box Sets bundling Snow Leopard with iLife '09 and iWork '09, and Snow Leopard Server.
- Mac OS X version 10.6 Snow Leopard ($29.00)
- Mac OS X Snow Leopard Family Pack (5-User) ($49.00)
- Mac Box Set - (with Snow Leopard) ($169.00)
- Mac Box Set Family Pack with Snow Leopard (5-User) ($229.00)
- Mac OS X Server version 10.6 Snow Leopard ($499.00)
Note: Purchases through these Amazon links benefit MacRumors financially.