Apple Patent Application Details Touch-Sensitive Unmounting of External Devices From Computers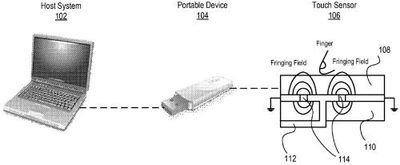 In a
patent application
filed in January 2008 and published today by the U.S. Patent and Trademark Office, Apple describes its work on computer peripheral devices that are capable of initiating shut down of communications with the host computer to prepare for removal by sensing a touch or impending touch from the user. As an example, Apple points to the need for USB flash drives to be unmounted from the operating system prior to disconnection.
Before the user can remove the device, the user has to tell the host system that the device is about to be disconnected, so that an operating system of the host system can perform dismount operations (e.g., finish read/write transactions, close files) to prevent data loss when the device is disconnected from the host system. Some popular operating systems (e.g., Mac OS, Windows) require the user to "drag n drop" the icon onto a "trash" icon or perform some other sequence of steps to warn the operating system that the device is about to be disconnected. This conventional dismount procedure allows the operating system to perform dismount operations before the device is disconnected from the host system.
A common problem with conventional dismount procedures is that users often forget to follow the dismount procedures. For users who remember to use the proper dismount procedures, there is often a long wait while the operating system performs dismount operations. This wait can be several seconds long which can be frustrating to many users.
In the description of the invention, Apple covers a broad array of sensing techniques that could be used to allow a device such as a USB flash drive to sense the user's touch as he or she begins to remove the device. Further, Apple suggests the possibility of using a capacitive-sensing system to sense the approach of the user's hand in order to begin the unmounting process even earlier.
Summary: A portable device configured for engaging to a host system can be operable to generate a signal when the device is touched by a user or when the portable device detects an impending touch by the user. Responsive to the signal, the host system automatically initiates one or more operations related to disengaging the portable device from the host system. In some aspects, the portable device can be electrically, optically, electromechanically and/or mechanically engaged and/or disengaged to a host system.
These features allow a user to disconnect the portable device from the host system more quickly, and also prevents data corruption due to failure of the user to follow proper procedures.
The invention is credited to Brett Alten, currently Apple's Director of Patent Development.