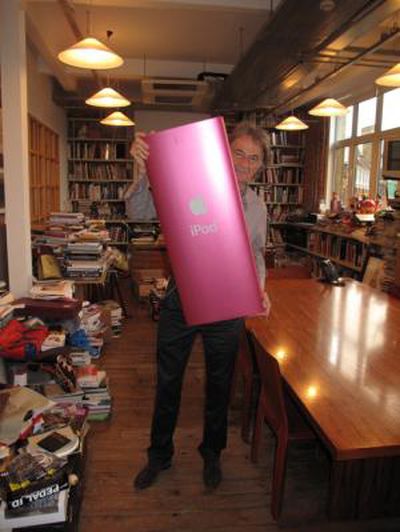 English fashion designer
Sir Paul Smith revealed
on his blog that he has received a giant model of a pink iPod nano from his good friend Jonathan Ive as a birthday present.
On Friday 3rd July, I received a really lovely mad gift for my birthday (which is on the 5th) from Jonathan Ive and Jody who works with him at Apple - a perfect model of an Ipod but as you can see slightly bigger than usual. Jonny knows I like strange things; as the real thing gets smaller, he sends me a giant version!
As many Apple fans know, the famously publicity-shy Ive is Senior Vice President of Industrial Design at Apple, noted for leading the design of most of Apple's products released since his appointment to the position in 1997 alongside the return of Steve Jobs. Ive's groundbreaking designs are credited with being a significant contribution to the rebirth of Apple and have earned him numerous prominent design awards.