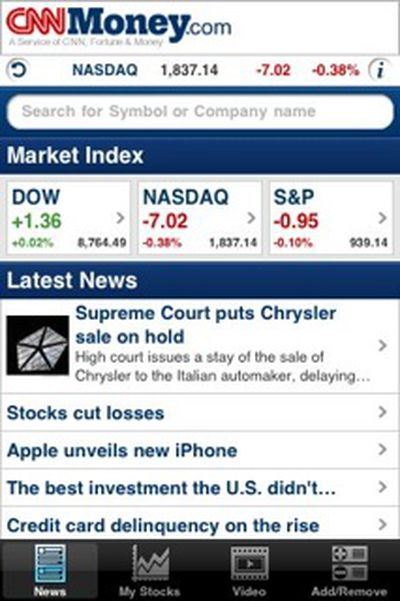 Macworld reports on CNNMoney [App Store, Free], a new iPhone application from CNN that offers a full range of business news, market coverage, and stock quotes.
The CNNMoney.com app enables users to pick and choose from amongst 10 editorial section, from Technology to Small Business for a more customized news feed. It also offers individual stock quote tracking, updated in a live scroll -- similar to the crawl below the main image on news television.
The complete list of features includes:
- Proprietary news feed from CNNMoney
- Personalized content selection and presentation
- Full text articles with text and photos
- Breaking new alerts
- Exclusive CNNMoney video
- Fully integrated stock ticker
- Customized stock quotes and tracking
- Market updates and key indices tracking
- Easy-to-share articles and videos via email or Twitter
CNNMoney is a joint service of CNN, Fortune and Money.