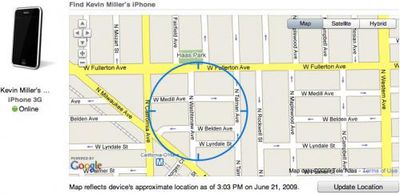 While many users have tested out the iPhone OS 3.0's "Find My iPhone" feature, which allows MobileMe customers to track the location of their lost iPhone, send alerts to the device in order to assist with recovery, and to perform remote wipes for data security, few have had the need to activate the system in hopes of finding a truly lost iPhone. MacRumors member happywaffle, whose real name is Kevin Miller, is one of those (un)lucky few, and the story of his iPhone pursuit has drawn considerable attention in recent days.
Kevin's story begins with a trip to a Lego convention in Chicago, where he left his iPhone behind in a "sketchy dive bar". Despite immediately realizing that he no longer had his iPhone and returning to the bar within five minutes, it was nowhere to be found. The following day, the chase ensued, with Kevin and his friends traveling around Chicago using a MacBook Pro with a Sprint 3G dongle to track the missing iPhone.
Between tracking the iPhone via GPS and sending alert messages to the device via the "Find My iPhone" Web interface, Kevin was eventually able to locate his iPhone and the bar employee who had it in his possession. Kevin's story makes for an amusing and interesting read, demonstrating the value of the "Find My iPhone" feature while also revealing a few glitches and showing just how many things had to go right in order for him to find his iPhone.