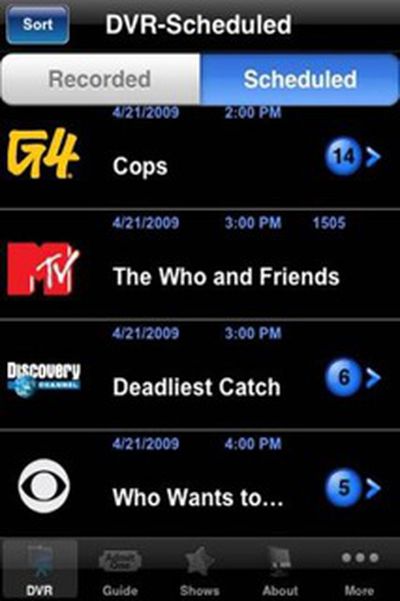 AT&T Mobile Remote Access [App Store, Free], a new iPhone application for controlling the DVR component of AT&T's U-verse communications and entertainment system, has appeared in the App Store. The new application offers a number of features for remotely searching guide information and scheduling the DVR component of the U-verse TV service.
DVR:
Edit your scheduled and recorded shows.
Guide:
Navigate through all your channels
Search for your favorite programs
Set recordings on your Total Home DVR
View other showtimes and even find out if your favorite actor is on another show, or
Advance the search by jumping to a future date and time (up to 2 weeks)
Shows:
Manage your favorite shows and see when the next episode is airing
Other:
Filter search by HD channels, new episodes only, favorites shows/channels and more
Rumors of a more full-featured U-verse iPhone app surfaced last September, with a report from an AT&T insider earlier this year also detailing a forthcoming iPhone app to control U-verse's TV component. The released version, however, does not provide the ability to control DVR playback as the previous rumors suggested, instead focusing solely on searching and scheduling functions.