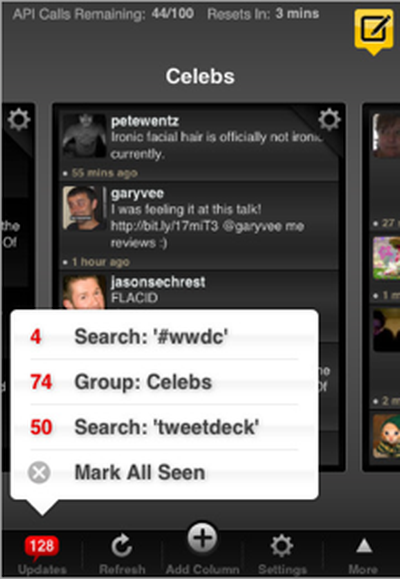 An iPhone version of TweetDeck [App Store, Free], the popular Twitter browser for Mac, Windows, and Linux, has appeared in the App Store. The application brings a number of features to enhance users' mobile Twitter experience:
- Tweet directly from your iPhone or iPod Touch.
- Manage multiple Twitter accounts.
- Stay up to date - view all new tweets in real-time.
- View notifications for new tweets received.
- Use columns to create your personal dashboard.
- Easy set-up - Sync with your existing TweetDeck columns.
- Create Groups to easily follow all your friends.
- Follow topics in real-time with saved searches.
- Reply to tweets and send direct messages.
- Easily re-tweet messages.
- Share photos with Twitpic and YFrog.
- Shorten and share links with your favorite URL shortener.
- Follow and un-follow people.
- Shake your iPhone to refresh columns.
- Manage your favorite tweets.
Kevin Rose was able to get his hands on a beta version of the app and earlier today posted some brief favorable impressions and several screenshots.