Apple Patent Applications: Multi-Touch Scroll Wheel, Sharing Digital Media During iPhone Calls
A number of patent applications from Apple were released by the United States Patent and Trademark Office this morning, and two of them have received a fair bit of attention, having been first brought to light in a pair of reports (#1, #2) from AppleInsider.
The first application, entitled "Multi-dimensional scroll wheel", was filed in September 2008. It describes a scroll wheel, such as that used in the iPod classic and iPod nano, that is capable of sensing user input in multiple ways, as well as sensing multiple simultaneous inputs, essentially bringing multi-touch capabilities to the iconic iPod scroll wheel.
To improve the effectiveness of a touch-based scroll wheel, the present disclosure provides multi-touch scroll wheel circuitry capable of sensing input in multiple ways. For example, scroll wheel circuitry can sense a moving object, such as a finger, as it is moved not only in a rotational manner but also in a linear manner across the center of the scroll wheel. The scroll wheel circuitry can also sense more than one object at a time, such as multi-finger touch or motion. In this manner, the scroll wheel circuitry can enable a device to recognize a wider range of input. To be clear, a wheel can be circular, but can also have any shape that enables a closed loop type input.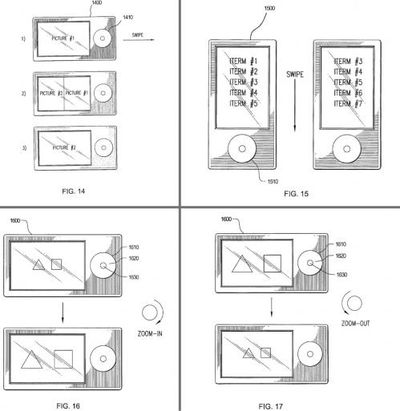 The patent application also cites potential implementations of a multi-touch click wheel as part of a notebook computer, a peripheral input device similar to a mouse, or a wireless input device capable of communicating either directly with a media player or with a media player docking station.
The second application, entitled "Methods and systems for mixing media with communications", was filed in November 2007 and describes methods for sharing digital media files such as music, videos, and images as part of an audio, video, or data communications connection without terminating the original connection.
The present invention permits a user to initiate a communications operation with a recipient, or to receive a communications operation initiated by another individual, and to transmit a selected media item over the same communication path used for the communications operation without terminating the communications operation. This combined transmission can occur regardless of the type of media selected by the user to be added to the communications operation.

Notably, while Apple's drawings accompanying the patent application point to implementations related to the iPhone, Apple also makes numerous references to the sharing of media while users are engaged in video conferences, something not possible in the current models of the iPhone. The addition of video calling, which would require a front-facing camera, to the iPhone has been a popular target of speculation, with rumors appearing as recently as this week pointing to the possibility of its appearance in an upcoming iPhone hardware update.