iPhone Push Notification Settings and Screenshots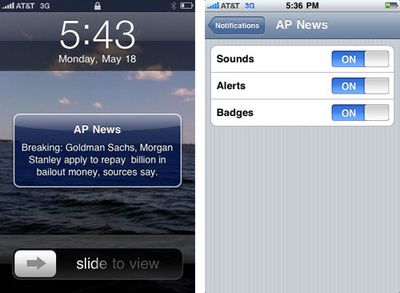 Apple began
high volume testing
of the upcoming Push notification system for iPhone applications earlier this week. The system offers 3rd party applications the ability to push notifications to the user even when they are not the running application.
Each application will ask for permission to provide push notifications upon launch. Once authorized, you can customize the type of notifications you wish to receive: sounds, alerts, and/or badges. Alerts provide an SMS-like pop up dialog while badges simply add a number to the corner of the app's icon. An additional gallery of screenshots is provided by MyAppleGuide.
The Push notification system will accompany the iPhone 3.0 release which is scheduled this summer.