Amazon Launches Kindle DX eBook Reader with 9.7" Screen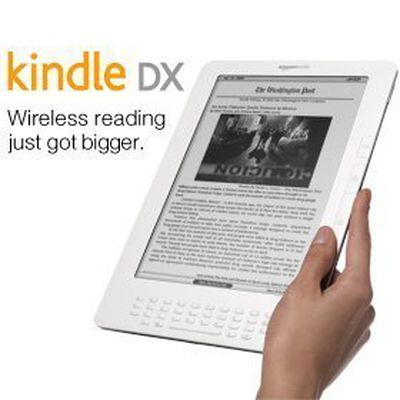 Engadget has just wrapped up live coverage of Amazon's press event introducing the Kindle DX, the next generation of Amazon's eBook reader. The Kindle DX, now available for pre-order at a price of $489 for shipment this summer, contains a 9.7" screen and is being positioned as a device for reading documents such as newspapers, textbooks, and research journal articles whose formats have not worked ideally with the smaller 6" screen of the current Kindle 2 model.
The Kindle DX features a built-in accelerometer that allows for auto-rotation of content between portrait and landscape orientations, and increased storage over the Kindle 2 of 3.3 GB, which provides space for up to 3,500 books periodicals, and documents. Like the Kindle 2, which will remain available at its current price of $359, the Kindle DX offers free 3G access through Sprint's network to allow downloading of content on the go. Native PDF support is also included.
The Boston Globe, The New York Times and The Washington Post are all planning to offer long-term subscriptions for Kindle newspaper editions at discounted prices.
Many people have viewed the Kindle as a competitor to the iPhone's eBook capabilities, with a Kindle for iPhone application also offering compatibility with Amazon's service on the iPhone. Rumors of an Apple "media pad" that could provide more direct competition to the Kindle on the eBook front have also been circulating in recent weeks.