App Store Reaches Milestone: One Billion Apps Downloaded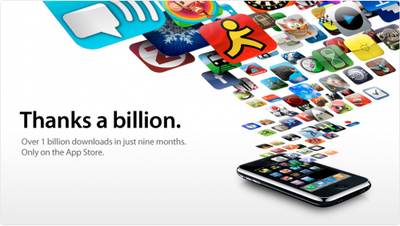 Apple's front page
is now announcing that the App Store has reached one billion downloads. For the past two weeks, Apple has been running a
1 Billion App Countdown
promotion, offering a package of Apple prizes valued at over $13,000 for the "entry (either through an app download or through the non-purchase online entry) sent immediately following the download of the 999,999,999th app." The competition is now closed, and the winner will be publicly announced in the near future.
A number of Apple pages, including the main apple.com page, countdown promotion page, iPod+iTunes page, iTunes Store, and App Store have been displaying counters reflecting the approaching milestone.
Apple revealed yesterday that they had sold 37 million iPhones and iPod Touches. The latest App Store application count is over 35,000.
Update: Apple has announced that 13-year old Connor Mulcahey of Weston, Connecticut is the contest winner.