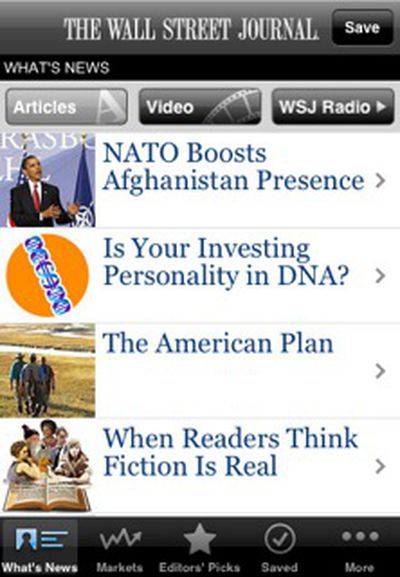 CNET briefly reviews WSJ - The Wall Street Journal [App Store, Free], which provides free access to The Wall Street Journal from the iPhone and iPod touch. While standalone applications created by newspapers are becoming increasingly common, the release of a free app for The Wall Street Journal is notable for the fact that the newspaper's subscribers typically pay substantial fees for access to its online content.
In its review, CNET draws comparisons to NYTimes [App Store, Free], a competing app released by The New York Times last August and significantly updated to version 2.0 just last month.
For one thing, the Journal app seems to load much faster than the notoriously pokey Times, and it sports prominent buttons for Video and WSJ Radio.
The latter consists of a two-minute podcast that starts streaming immediately when you tap through. But it lacks a time stamp, so there's no way to know without listening if it's any newer than the last podcast you played.
As for the videos: they flat-out refused to play, though we'll cut the app some slack on its first day; no doubt looky-loos have stampeded the Journal's servers.
Aside from a couple of kinks, CNET seems to think that WSJ - The Wall Street Journal is a worthy release, with the ability to customize the application's toolbar and the ability to save or e-mail articles enhancing the free access to the newspaper's typically-paid online content.