Apple Still Pursuing iChat 'Answering Machine' Technology?
A patent application published today reveals that Apple may still be working on a video "answering machine" technology for inclusion with iChat. The technology made a brief partial appearance in early OS X Leopard developer seeds in December 2006, but was omitted from the finished product.
The patent application, filed in October 2007, describes the use of pre-recorded video messages that can be enabled and offered in response to video chat requests from other users. The pre-recorded video message could be displayed to the caller in response to a "do not disturb" status message on the part of the receiver or after a set period of time without a response from the receiver.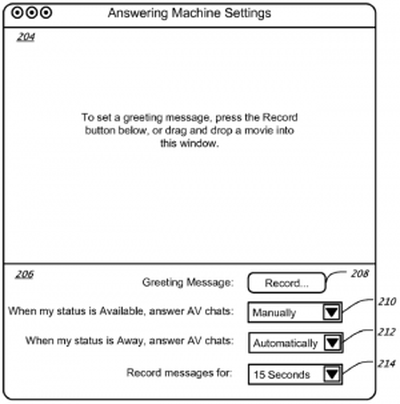 The invention also includes possible additional features of allowing the original caller to leave their own video message for the receiver and a user interface for viewing the message at a later time. Incoming messages could either be stored locally on the receiver's computer or on a central server, allowing both outgoing and incoming messages to be stored for later delivery even when the receiver's computer is offline.
The use of pre-recorded video clips was also a concept employed in early prototypes of the iPhone. In that case, it was planned that iPhone users would be able to "call ahead", sending a pre-recorded video message to their intended recipient to be viewed before the recipient answered the call. With increasing evidence for video camera functionality in the next-generation iPhone, the possibility exists that the "video answering machine" technology could also make its way into Apple's mobile devices.