MacBook Mini Photos Generate Speculation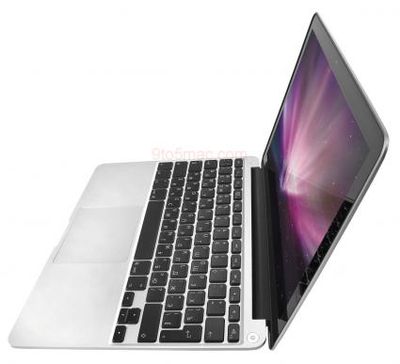 A series of images from a Russian magazine which claims to depict a "MacBook Mini" have been circulating on the internet. The specs on the described machine as said to include the following:
- 10.4" WXGA display.
- 1280 x 768 pixel with LED backlighting.
- NVIDIA MCP79
- Intel Atom Z740 1.83GHz with 1MB L2 cache.
- 2GB DDR3-800.
- NVIDIA GeForce 9400M
- 64GB Solid State Drive.
- Bluetooth 2.1 + EDR, Wi-Fi 802.11a/b/g/n
- 1 x USB 2.0
- 1 x Mini Display Port
- Battery Li-Ion 5100mA
We don't know what to make of the images (scan #1, scan #2), and have our doubts about the legitimacy of the images. Still, with rumors have been circulating that Apple will be entering the netbook market, it makes for interesting speculation. The machine would reportedly retail for approximately $899 in 2009.
Update: One reader claims this is an April Fools joke by the magazine.