Apple Announces Dates for WWDC 2009: June 8th-12th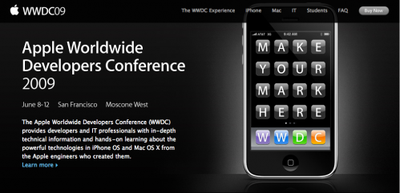 Apple announced
today that this year's Worldwide Developers Conference (WWDC) will take place from June 8th through 12th in the Moscone West convention center in San Francisco. Basic
promotional information
on what attendees can expect is provided on Apple's site, but the full schedule of events is yet to be published.
The Apple Worldwide Developers Conference (WWDC) is the premier technical event for developers and IT professionals innovating with Apple platforms. Over 1,000 Apple engineers will be at Moscone West to present the latest Apple technologies and provide you with code-level guidance. Youll learn how to harness the power of iPhone OS, Mac OS X Snow Leopard, and Mac OS X Server Snow Leopard in the most efficient and sophisticated way possible saving you time and accelerating your development. Bring your MacBook and your imagination, and prepare to make your ideas happen.
As it did last year, Apple is offering three tracks for attendees: iPhone, Mac, and IT. The conference will include technical sessions, hands-on labs, as well as other special events. Registration is $1295 before April 24th, after which the price will increase to $1595.