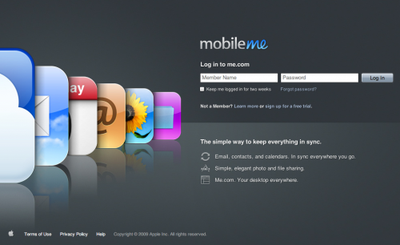 Apple today posted a
MobileMe news article
referring to a new
new support document
detailing recent enhancements to MobileMe.
Mail
- Compose window address selector shows all email addresses for contacts, not just home and work addresses.
- Newly added email addresses to Contacts appear in the compose window selector without having to logout and login.
- Improved printing of HTML formatted messages.
Contacts
- vCard export supports all text fields.
- Improved results when searching with both first and last names.
- Improved Japanese name ordering.
Calendar
- Faster start time when accessing Calendar for the first time.
- Faster performance when switching between day/week/month views.
- Calendar now retains your last view settings, such as day, week, or month view, as well as showing or hiding the To Do panel.
Gallery
- Faster loading of Gallery home page for visitors.
Login
- MobileMe login has new design featuring news updates.
The tweaks follow several recent updates to MobileMe, including the addition of file sharing and the release of a new version of MobileMe Control Panel for Windows that enables faster syncing contacts and calendars with Outlook.