Over the past week, there have been an increasing number hints that the long-awaited iMac revisions are indeed imminent. Resellers have had low stocks of iMacs and educational Apple sales reps have been authorized to give special pricing on the current iMacs.
One image sent to us even claims that new Apple marketing materials describe the new iMacs with "High-performance NVIDIA graphics":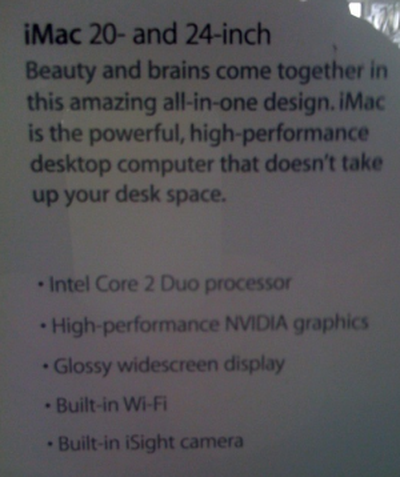 If true, this is consistent with expectations that the new iMacs will be based on the NVIDIA motherboards like the newest MacBooks and MacBook Pros.
Finally, Swedish reseller Dustin.se appears to have a new placeholder for an unusual iMac configuration that is labeled as "News". The configuration itself doesn't match an existing configuration, but doesn't necessarily represent any new features either. The price is curiously listed higher than the other existing iMacs, and may just represent a placeholder or mistake on the part of the reseller.