Snow Leopard Adds Minor Often Requested Tweaks: Put Back, Stack Folder Navigation
With the absence of major new user interface features in Snow Leopard, we're left discussing some rather minor (though frequently requested) tweaks found in the latest developer builds of Mac OS X 10.6.
Put Back - Under Mac OS 9, users had the option to restore any "Trash"ed files (before the Trash is emptied) back to their original locations with a simple "Put Away" command. For some reason, this capability was lost in the transition to Mac OS X. In the latest Snow Leopard builds, it's back (as "Put Back"). So any accidental disposals can now easily be restored with a simple click. Again, this only works for files that have been moved to the Trash but not yet "emptied" (deleted).
Stacks Folder Navigation - The introduction of the "Stacks" metaphor in Mac OS 10.5 was met with mixed reactions. One issue with Stacks has been the inability to "drill down" into additional folders. In Leopard, clicking on a folder in Stacks simply opened that folder in the Finder.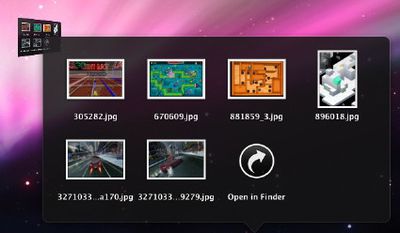 Photoshopped Mockup
According to those familiar with the latest developer build, clicking on a folder in Stacks smoothly opens the new folder in Stacks while shrinking the parent window as a small icon on the top left. This allows you to quickly navigate in and out of folders in Stacks.
Snow Leopard is Apple's next major revision to Mac OS X. It is officially due sometime in 2009 and is said to be focusing on stability and performance enhancements.