Analyst Speculation on $99 iPhone and Higher Resolution iPhone 3G
MSNBC put the spotlight on a new report by RBC Capital Markets analyst Mike Abramsky, who believes that an entry-level $99 iPhone will arrive in June or July alongside an upgraded (higher screen resolution) iPhone 3G.
The report echos many similar analyst reports over the past year that have also pointed to the possibility of an entry-level $99 iPhone. The analyst even published this detailed chart about what he believes the breakdown might be (republished by AppleInsider):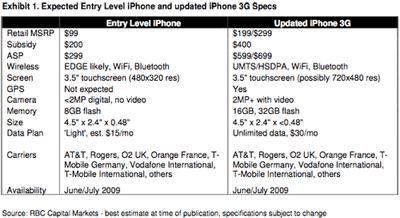 The $99 entry-level iPhone looks remarkably like the original iPhone with an EDGE-only network connection but a discounted monthly plan. The upgraded iPhone 3G, however, seems to only add video, storage and a higher resolution screen to the mix. The report looks like a rehash of circulating rumors and speculation. And in the end, analyst reports as a whole have been a poor predictor of future Apple products, but we published this for interest's sake.
The possibility of a low-end $99 iPhone was brought into doubt by Apple's acting-CEO Tim Cook, who said that Apple was simply not interested in that market:
We're not going to play in the low-end voice phone business. That's not who we are, that's not why we're here. Goal is not to lead unit sales, but to build the world's best phone.
The next-generation iPhone, however, is certainly in the works as evidenced by model strings found in the latest iPhone firmware.
One interesting note is that the possibility of an increased resolution (720x480) iPhone might be less of a problem for app compatibility than rumored plans for a smaller Nano screen. While developers may still have to issue new versions of their apps, scaling to a higher resolution would presumably be easier than the other way around. Meanwhile, the 720x480 resolution has been said to be planned for Apple's long-rumored mini-tablet/PDA project.