Safari Tops 7% Of Browser Market Share, Mac OS X On The Rise
Apple's Safari web browser has crested 7% of worldwide browser market share according to online research firm Net Applications.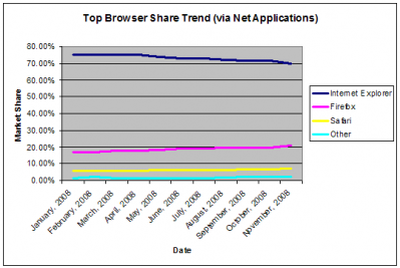 While Safari's accomplishment is significant the biggest winner is clearly Mozilla's Firefox which crested 20% market share and climbed nearly an entire percentage point in one month. Meanwhile, Internet Explorer continues to bleed market share and now sits below 70%, a 1.5% decline from October 2008.
The news is similar for Microsoft and Apple's respective operating systems, with Microsoft Windows falling below 90% market share for the first time according to Net Applications and Apple's Mac OS X approaching 9%.
Net Applications gathers their market share numbers differently from sales-based statistics compiled by firms like Gartner or IDC in that they use identifying information from internet browsers. Therefore, their statistics best describe the installed internet-using population.
We collect data from the browsers of site visitors to our exclusive on-demand network of live stats customers. The data is compiled from approximately 160 million visitors per month. The information published is an aggregate of the data from this network of hosted website statistics. The site unique visitor and referral information is summarized on a monthly basis.