Apple Activates Podcast Downloads in 2.2 Firmware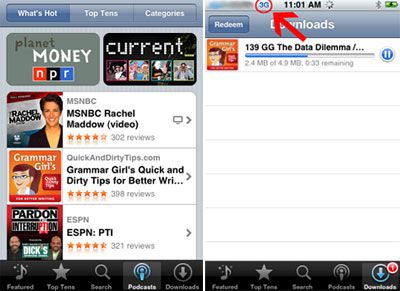 German blog
Schimanke.com publishes
new screenshots from the iPhone 2.2 firmware that reveal that Apple has activated iTunes and App Store features that will make their debut in the next iPhone update. Prior to this past week, these new features had not been fully enabled.
The new iTunes Store screenshots confirm that Apple will be delivering over-the-air downloads for both video and audio podcasts. According to Schimanke, podcast downloads will be limited to episodes less than 10MB in size when using the cellular network.
The screenshots also show off the new App Store category view with icons embedded. Additional 2.2 features previously revealed include the addition of Google Street View and Japanese Emoji icons.
Meanwhile, there has been no evidence of background "push" notifications which were originally promised in September. Unconfirmed whispers suggest that the Apple has delayed the push notification service due to major issues with the initial implementation.
Apple seeded Beta 2 of the 2.2 iPhone firmware to developers in late October but has given no indication when we can expect a public release.