Apple Seeking to Increase Participation in App Store Ratings?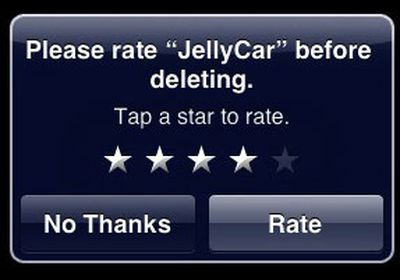 iPhoneHellas.gr has published
a screenshot from the latest iPhone 2.2 Beta 2 which reveals that Apple may be seeking to increase customer participation in reviewing iPhone and iPod touch apps.
Specifically, the latest firmware will ask users to rate an application if they decided to remove them from their iPhone. Apple would presumably send the rating back to the iTunes App Store. While Apple had originally allowed anyone to leave an app ratings, Apple now requires customers to have purchased an application prior to rating/reviewing it.
Recently leaked screenshots of iPhone 2.2 Beta 2 have revealed a number of new features including:
- Google Street View
- Public Transit Times and Walking Directions
- Location Sharing