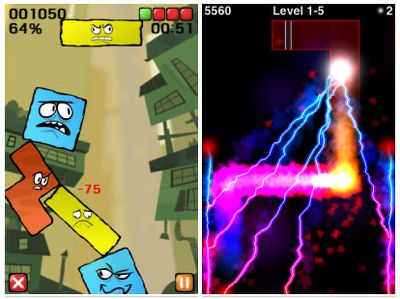 On Friday, iFund funded
ngmoco
released their first iPhone applications to the App Store. Ngmoco is
one of a handful
of iPhone developers who qualified for a piece of the $100 million venture capital fund (iFund) that was established when the iPhone SDK was launched.
The two new games are priced very competitively:
Topple ($0.99) - "- Stack and balance a family of mischievous & dysfunctional shapes using multi-touch controls to slide and rotate them into positions. Build your way to victory but remember to keep your balance by tilting the screen to prevent your teetering tower of blocks from Toppling to their doom." Video available at topple.ngmoco.com
MazeFinger (Free) - "Penetrate a seemingly endless collection of challenging mazes and race to the exit before your energy runs out!" Video available at mazefinger.ngmoco.com.
Both games have been well received. Ngmoco has also announced that they will be publishing the much anticipated Rolando game which we previously highlighted.