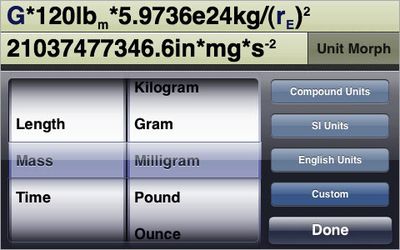 Tuaw takes a look
at
Equivalence
[
App Store
] for the iPhone.
Equivalence
is a conversion tool "for engineers" designed by one of our
forum members
.
Besides converting over 260 different units, the app also has an auto-update system so it can add new units and make changes over-the-air rather than waiting for an App Store update. Other features listed by the developer include:
Easy-to-use basic mode for simple conversions similar to most popular conversion utilities
Advanced mode allows for freeform conversions involving any combination of units
Powerful and thoroughly tested expression processing engine to ensure your results are calculated quickly and accurately
Unit Morpher converts your result to your desired resultant units
Library of common physical constants for easy input
Scrolling fields accommodate long expressions and results
Multiple pages of common units accessible from the keypad
TUAW concludes that this is the best unit converter for the iPhone. The app is priced at $4.99 and is available in the App Store: iTunes Link.
Update: The app will be on sale for $1.99 until October 6th. The change may not have yet propagated to the App Store.