Apple Releases Mac OS X 10.5.5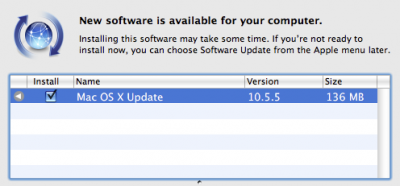 After weeks of developer seeds, Apple has released Mac OS X 10.5.5 to customers. The latest upgrade to Leopard is available through your Mac OS X Software Update.
The 10.5.5 Update is recommended for all users running Mac OS X Leopard and includes general operating system fixes that enhance the stability, compatibility and security of your Mac.
Apple details the updates at http://support.apple.com/kb/HT2405 as well as Security changes at http://support.apple.com/kb/HT1222.
Highlights of the improvements include:
- Addresses stability issues with video playback, processor core idling, and remote disc sharing for MacBook Air.
- Improves Spotlight indexing performance.
- Improves iPhone sync reliability with iCal and Address Book.
- In MobileMe: improves overall sync and Back to My Mac reliability.
- Improves Time Machine reliability with Time Capsule.
The 10.5.5 update is available for free to all Mac OS X 10.5 (Leopard) customers.